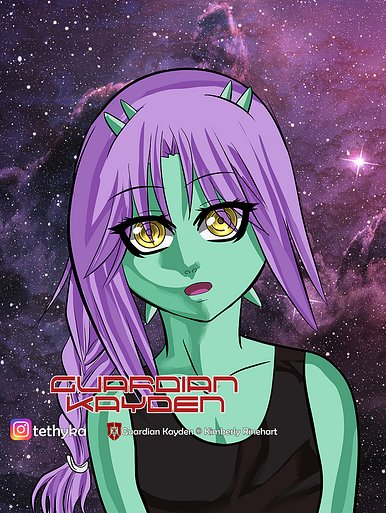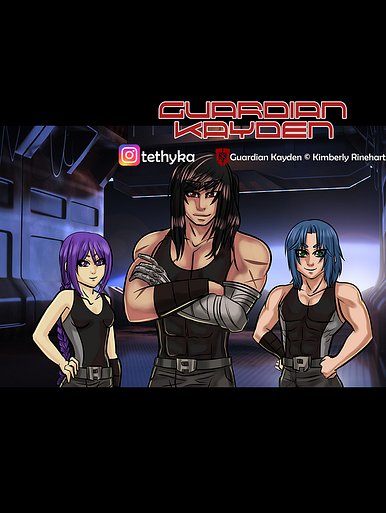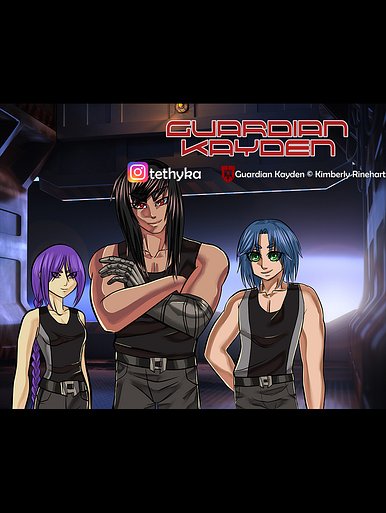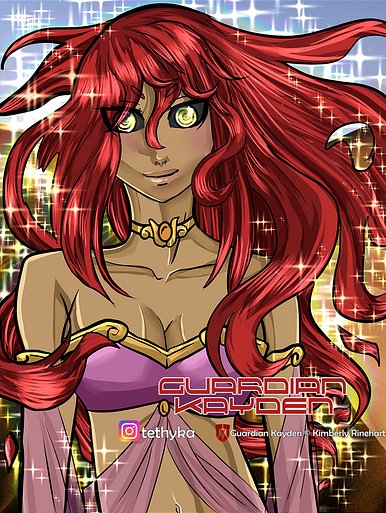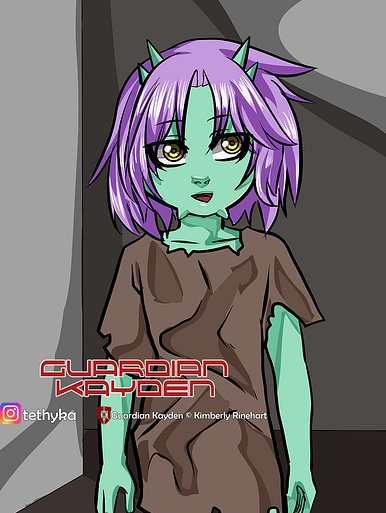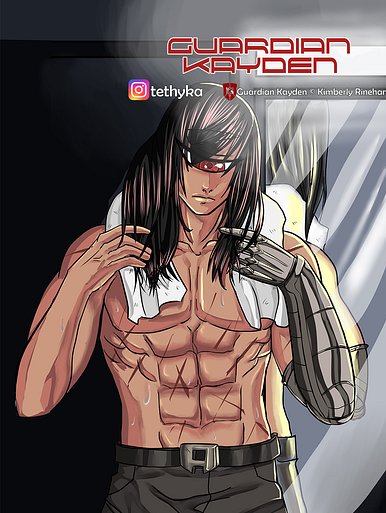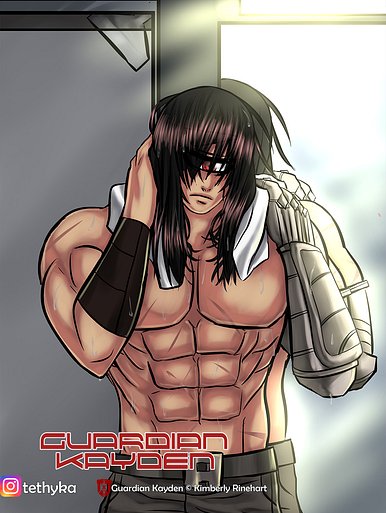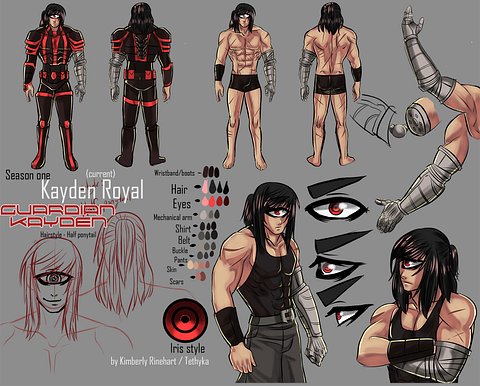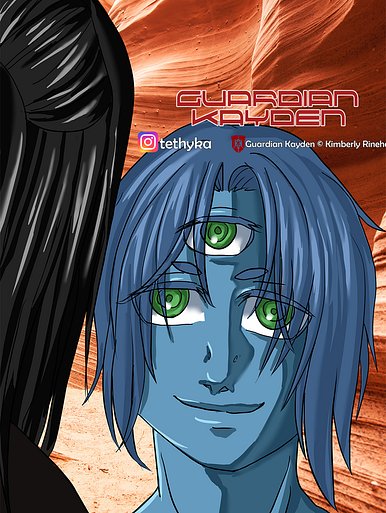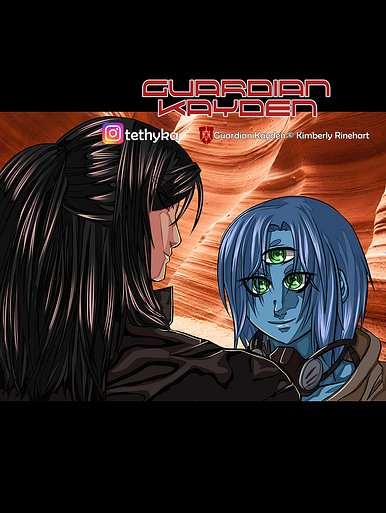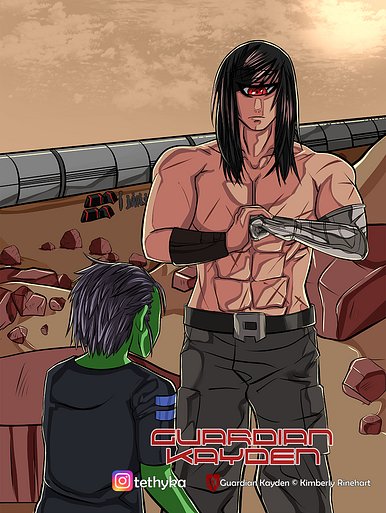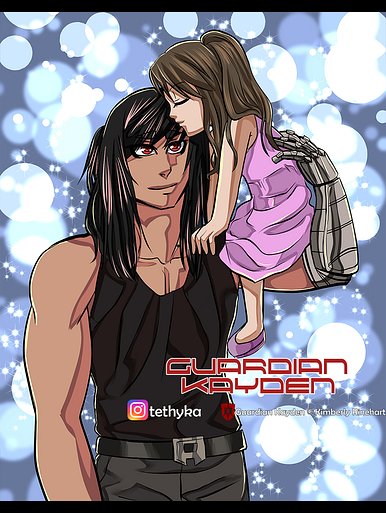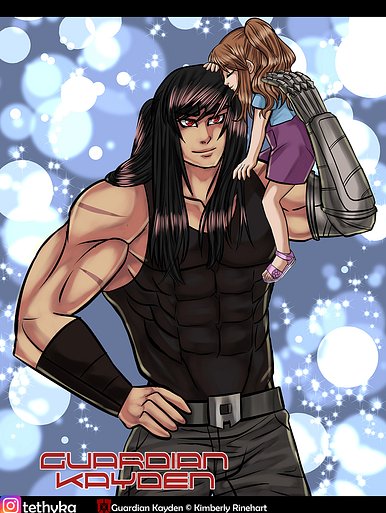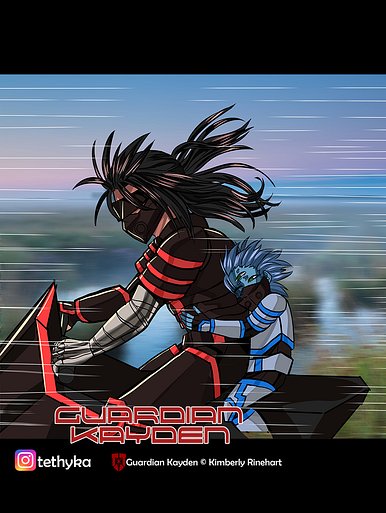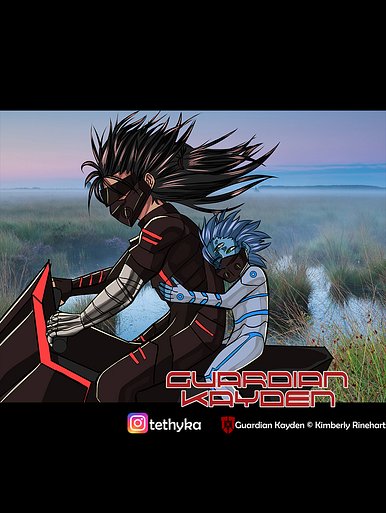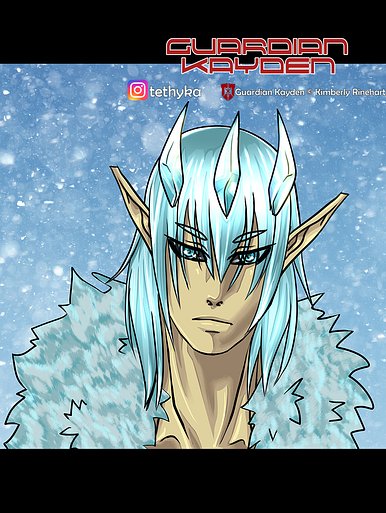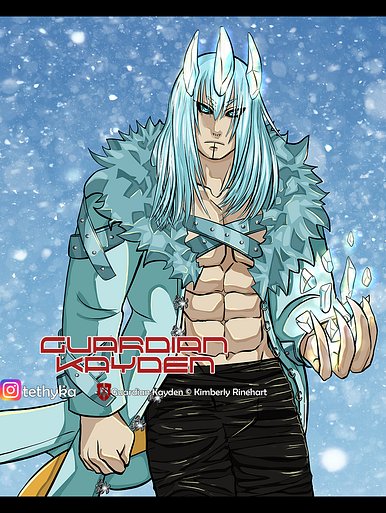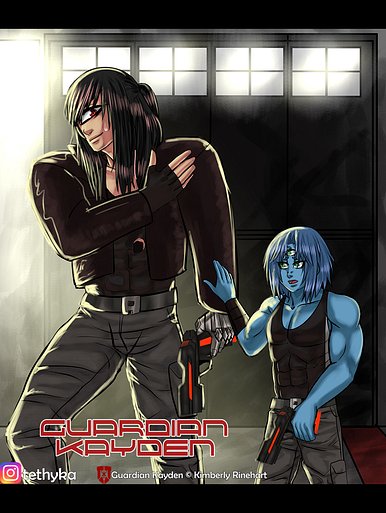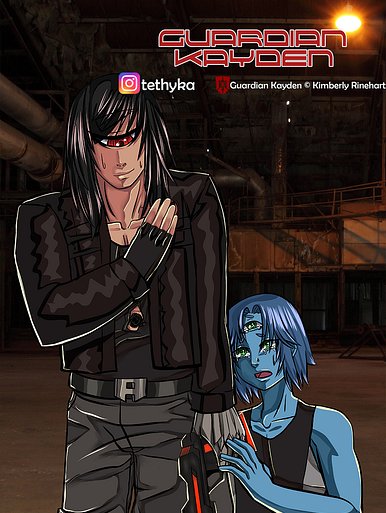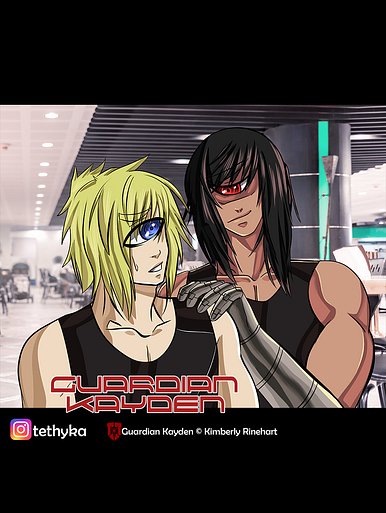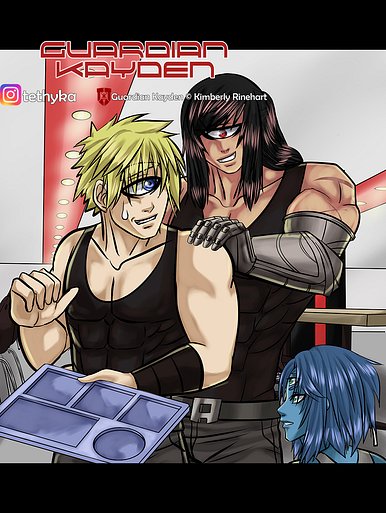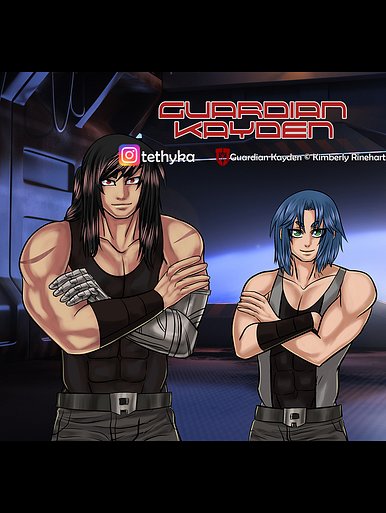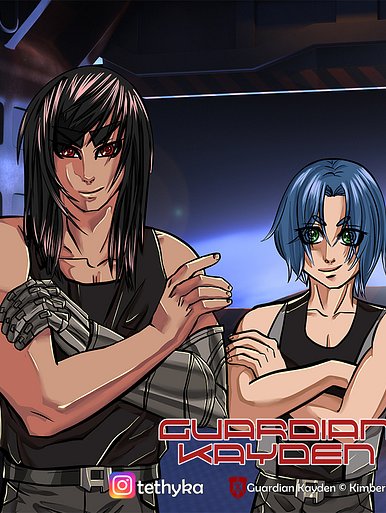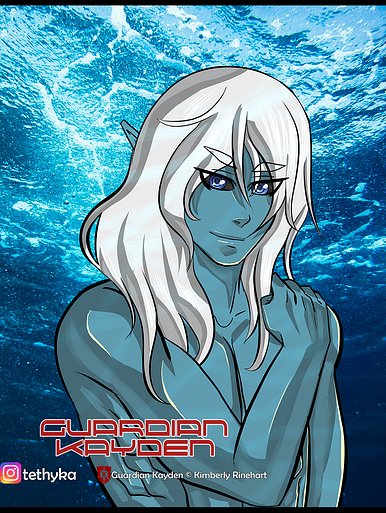 Afrel - the Water Elemental was the first Elemental to be so different than the others with his blueish skin.
This one was a lot more dramatic and flowy, and he has his Elemental crown here. Anatomy and hair have improved as well as overall character design.
Whoa!! What happened to Kayden's face?!
...
All joking aside, he does not look like himself regardless that this is the first time you see him in the novel with two eyes! Not just that, but his stature is so puny even when 'scaled down' to a human size... Yikes!
There we go! Much better!
Not just the stature correction, fixed hair and face, but the mechanical arm and scars are fixed too!
The general art style has changed dramatically in this version in both Kayden and Rio. Rio was also rather scrawny in the original version. Their shirts look a lot better as a tighter fit to showcase their muscles.
I was not experienced with drawing multiple people in one image around the time this illustration was planned. It was a traditional sketch on paper turned digital with ink and color in the reflective shadow cel style. There is a lot in this image I was not happy with that I wanted to change, but just wasn't sure how to do so... Not just that, but his scars are missing !!
This one is executed a log better in scale of the two Cyril but not compared to Rio. In this piece, it is obvious Kayden is both built and taller than the typical Cyril.
Kayden's anatomy and hair had improved in this piece by quite a bit. His mechanical arm is now streamlined and consistent per the design of the concept sketch and is the case in all other remastered artwork. Also, his scars were added!
Again, the scale is not entirely correct in this piece as Kayden looks way shorter than ten foot seven inches tall.
I was really unhappy with this piece and just settled on it for a while until one day, it was enough...
The scale was still not fixed (dangit! XD) but the physique and anatomy were. The wrinkles and clothing improved, and the shirts were no longer baggy. Painterly style used once again as this was a later remaster than others.
The first Elemental in season/book one--Lockren, the Ice Elemental. He is the first visitor to Kayden's dreams.
This was the original design that I had of him that fit the mental image I had in mind. I was happy with it for a time but found that for one, the hair was too short, as well as his skin a little too sickly. The fur could use some work too...
Lockren's redesign was a lot more fitting to what I had imagined with more experience under my belt in design as art. His coat was a treat even though the clasps were a nightmare! Him having an Elemental crown inspired the other Elementals to have one based on their elemental. (except for the Beast Spirit.)
Original bodysuit armor is uswed in this version, but what bothered me the most was his hair since it looked like a mullet... (x_X)
The image looked too static for the scene too, didn't nail that one!
Fixed the hair!
Also added the speed lines while blurring the background to give the illusion of movement. Armor was redesigned completely as well.
This was the first illustration of Felici as well as scale of the father and daughter pair. His anatomy is a little wonky... XD
Not just that but his kid is a giant in this piece, so that had to change but I wasn't experienced at drawing children at this point...needed more practice!
This image is one of the best scaled illustrations of Kayden and his giant stature compared to his five-year-old human hybrid daughter. His anatomy has drastically improved, and his shirt is now a tighter fit from the original baggy design, which was something I didn't really consider at first but appreciated changing later.
The background is hand drawn and colored with the addition of a special cloud brush of varying types to add depth to it. Practice on the abdominal muscles improves but not as much as I'd like. Scale is shown in this picture but not entirely accurate as per the difference of a five-foot alien (Abel) versus a ten-foot alien (Kayden).
His mechanical arm varies as the original concept art for its design fluctuates between the different commissioned artists. I tried to discern the style of the arm myself for what I think would be attractive, cool, and fairly easy to redraw per each scene image.
I wanted to really portray the difference in a Cyril's stature, particularly Kayden's since in the book it says he is a bigger Cyril than others--so his muscle and frame are bigger. But again, the scale to the smaller alien is not quite right. This gets better over time as I gain experience in scaling the characters. The iris is also small in this piece and from here on out unless his emotions are either riled or softened.
One of the first few illustrations where Rio was originally designed. In this version, he had downward slanted eyes and looked a lot more 'laid back.'
Not exactly what I was going for but the result thus far. I wanted to redo it right away but knew I had to become more practiced after my long hiatus from art. Also, the shines in Kayden's hair are still white at this point and his black is too flat looking...
This scene felt more like a 'scene' with Kayden being more visible in the shot. Rio's eyes were corrected, and his palette was refined. The shines in Kayden hair are now a reddish color to add more depth to it.
(Kayden's favorite color is red too!)
The color style is still the reflective shadow cel in this piece, but I feel it is one of the better turnouts for that style that I did. The background, however, was not drawn. That in time will change.
Not only with more experience in male anatomy, drawing, and painting in general but the dramatic change in art style began. His iris also got smaller as per the redesign. His scars are not mapped since the character concept art design. This was not one of the earliest remasters but the first one seen in book/season one.
Originally the first scene image made for GK book one. I had not properly charted Past Kayden's scars yet but had some ideas for the placements after this illustration. He was supposed to be scarred up for being an experienced Guardian for over 900 years and I wanted to show it right off the bat, as well as the intense muscle definition in a Cyril's physique.
My anatomy skills on the male torso were not exactly the best at the time, and intense practiced began at this image when I felt the motivation to really showcase a Cyril's physique and make abs that would be memorable.
Another deadline crunched scene image. She is supposed to appear much younger than she does in this piece. I didn't have the time to remaster the image like I wanted to when this first came out, unfortunately, and I had to wait for the opportunity to do so.
I did not have a whole lot of time to make this piece, but I was able to at least correct her appearance and age to fit the descriptive of the novel much better than the original. I like how she turned out in this one. :3
More hand drawn backgrounds are appearing around this time in the remasters.
This image I was completely unhappy with but on a time crunch to produce a scene image within one day. I had little experience with illustrating female characters in almost a decade when I did this one... man, I still don't like it!
I had a lot more confidence in this piece and was happier with all aspects of it. It was a hybrid of the reflective shadow cel and the painterly when I first started dabbling in the latter.
This was when the Guardian and two Squire trio were first depicted as humans in the novel. The art style was inconsistent, and their design was not yet honed. The poses are a little wonky too ...
Their proportion, anatomy, style, and design have drastically improved. They stand to look more confident just as timely as I too felt more confident in my style and experience as an artist when this remaster was done. Kayden's scars are added in this piece too!
Wristbands are purposely positioned on their non-dominant arm. All except for Kayden, he is ambidextrous.
Gallery :: Behind the Scenes Part 2